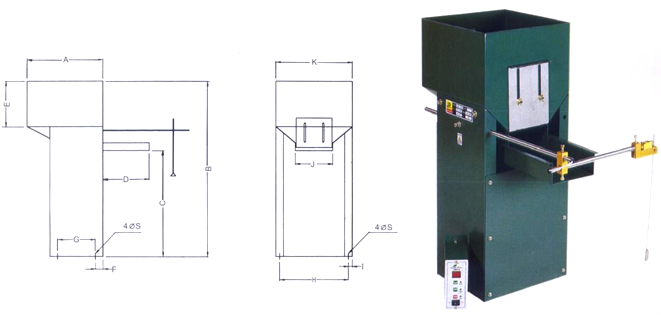 | | | | | | | | | | | | | |
| --- | --- | --- | --- | --- | --- | --- | --- | --- | --- | --- | --- | --- |
| TYPE\DIA | A | B | C | D | E | F | G | H | I | J | K | ØS |
| JH-30 | 305 | 750 | 380 | 200 | 200 | 40 | 150 | 265 | 20 | 150 | 305 | 7 |
| JH-40 | 400 | 950 | 395 | 280 | 300 | 100 | 150 | 350 | 25 | 215 | 400 | 9 |
| JH-50 | 500 | 1150 | 585 | 280 | 300 | 100 | 150 | 450 | 25 | 215 | 500 | 9 |
ITEM\TYPE
JH-30
JH-40
JH-50
 INPUT CAPACITY (L)
30
40
50
 AC VOLTAGE (V)
100/110 200/220
 FREQUENCY (Hz)
50/60
 POWER CONSUMPTION (VA)
200
250
300
 VIBRATION FREQUENCY
3000/3600 HALF WARE
 TEMPERTURE (°C)
0~40
 WET (% RH)
10~90
 MATTRAIL
SPC & SUS 304
 COLOR
NO.8 (錘紋漆8號)
 WEIGHT
55
70
78
 LOADING
10
14
14
 CONTROLLER
JMC-6
 PROXIMITY SWITCHES
JD-1705E1
ADJUSTMENT FOR JB/JL MAGNTIC TYPE FEEDER
MAKE SURE THE BOWL IS FITTING FEEDER.
SWITCH MAAIN ADU TO MIDDLE
WHEN SWITCH ON, CHECCKING THE FEEDING SPEED IS ATTACH DEMAND.
IF FEEDING SPEED NO DEMAND, NO NEED TO SWITCH OFF, LOSSE SETTING SCREW ON SPRING PLATE AND CHECKING
WHEN LOOSE SCREW ON SPRING PLATE, IF FEEDING SPEED IS TURN TO FAST, TAKE UP PIECE OF SPRING PLATE,
WHEN AFFER FOLLOW ADJUSTMENT FOR SPRING PLATE. THE SPEEDING IS STABLE, THE ADJUSTMENT IS FINISH.
TROUBLE SHOTING
FEEDER CAN NOT RUMIN

CHECKING POWER SUPPLY
CHECKING PUSE ISN'T BURING OUT.
CHECKING COIL ISN'T BURING OUT.

FEEDING SPEED TURN TO SLOW

ADJUSTMENT MAIN ADJ&SUB ADJ ON CONTROLLER.
CHECKING POWER SUPPLY (V/HZ) IS HAVE ANY CHANGE.
ALL SETING SCREW IS TIED ON.
SPRING PLATE ISN'T BROKEN.
CHECK COIL GAP (0.5~0.7mm)
CHECK BOWL (SHOUDER RAIL ) HAVE ANY INTERLOPE.
READJUSTMENT SPRING PLATE.
THE FEEDER BASE RIGID FRAME ISN'T ENOUGH STRONG.
THE MAGNETISM OF COIL TURN TO WEAK.
CHECKING LOADING IS OVER LOAD.